Visit of Africa museum – end of year drink
How could we better end this year's activities than by making a visit to the Royal Museum for Central Africa or Africa-museum, the reopening of which was highlighted by the national and international media at the end of 2018.
The renovation of the museum took 5 years and costed roughly € 66 million. The old building in neoclassical style and designed by the French architect Girault- now a listed monument- was completely restored in its original splendour. Surrounded by French gardens, a new pavilion ( +/- 5000 m2) now serves for welcoming visitors and this marriage between old and modern is a showpiece on its own .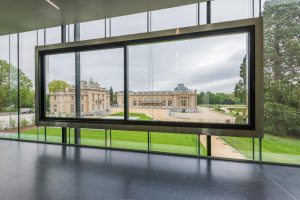 The new building, wholly transparent by its glass structure, symbolises the renaissance of the Africa museum which has been transformed from an old colonial institute into a museum open to the Africa of today and tomorrow. The new permanent collection covers topics such as biodiversity and the management of nature , everyday life, the fauna and flora, the African diasporas and the paradox of raw materials. The rich history of Central Africa is represented in an elaborate way but with a special focus on a rather short period that had a major impact: the colonial period and the independence of the Democratic republic of Congo, Rwanda and Burundi. The opinion of those peoples has been greatly taking into account.
The collection in all its forms is of international reputation and has been displayed even better to show its former glory.
Following our visit of the museum, end of year bubbles and assorted biscuits will be served in one of the side rooms of the museum. Our event will close around 17.30.
If you have registered and paid for this event, let the organizers know, preferably by e-mail, and they will arrange for more detailed instructions,  andre.ceulemans6@telenet.be
How to get there:
- By car:
> from Brussels : take Belliard tunnel and continue on the Avenue de Tervuren /Tervurenlaan and go past Vier Armen/Quatre Bras. At the 2nd roundabout, turn left onto Leuvense steenweg until you reach the Museum about 500m on the right. 
> from Antwerp or Gent : take the ring road (RO) and take the exit at Tervuren-Quatre Bras/Vier Armen (N227), then turn left and take the Avenue de Tervuren/Tervurenlaan. At the 2nd roundabout, turn left onto Leuvensesteenweg until you reach the Museum.

Parking facilities are not available at the museum so it is recommended to use the car park in the centre of Tervuren situated under the town hall and next to the cultural centre or the surrounding streets. From there it is a 10 minutes' walk to the Museum, about 500m on the right.

- By public transport : at Brussels Central Station take metro line 1 in the direction of Stockel and get off at Montgomery. There take tram 44 to Tervuren Station ( last stop). The museum is on the opposite side of the road.