Two days discovery of Ostbelgien
Discovering the German speaking part of Belgium
Important: sign up before February 28 !
No better time than September to admire the gorgeous scenery, the culture, traditions, and way of living of our German speaking fellow citizens.
Our 2 day outing in the Eastern part of Belgium will give us not only the opportunity to discover famous nature spots, rich merchant houses and romantic castles, but the excursion will also give us sufficient time to get acquainted with the region's history, economy and institutions.
We will be lodged (B&B) in the unique setting of Kloster Heidberg, an 18th century convent of the nuns of the order of the Recollects and now the seminar and event centre of the German speaking community of Belgium.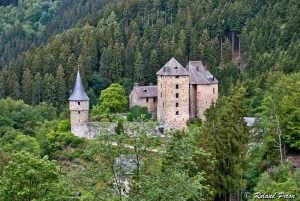 Saturday's programme will feature, among others, a visit of the parliament of the Germanspeaking community , a discovery of the three border country and Kelmis (Moresnet) where we will have a guided tour of the Museum of the Neutral Territory of Moresnet. On our way back to Eupen we will pass the American cemetery of Henri Chapelle.
During our supper in Kloster Heidberg we will be given more information on the history of the Convent.
On Sunday, following a guided visit of Eupen, we will visit Raeren castle and its pottery museum and have a short walk on the Fagnes . Following our lunch in restaurant " terminus" situated in Montenau , we are expected at Reinhardstein castle for a guided visit. Afterwards we will return to Eupen via the Gileppe lake and dam.
During our 2 day tour a professional guide will join us on the bus to comment on what we will see underway and the places we will visit.
The Kloster Heidberg Center is situated very near (200m) to Eupen railway station, end station of the fast train line coming from Ostend with stops in Brugge, Gent, Brussels, Leuven, Liège and Verviers. For those who decide to come by car there is ample parking space at the Center.
For the entire outing we will use a coach, which departs from and returns to the Kloster Heidberg Center.
Meals ( 2 lunches and 1 dinner) will consist of 3 courses incl. 1 glass of wine/beer and coffee. Vegetarians notify at registration.
If would like to participate in this event, you are, for organisational reasons, kindly invited to book early i.e.by transfering a deposit of € 100 to our bank account (National Trust Belgium IBAN : BE 17 0016 2021) and this by Thursday February 28th at the latest while indicating your choice for a double or single room.
If you have registered and paid for this event, let the organisers know, preferably by e-mail, and they will arrange for more detailed information and guidelines.