Thuin & Lobbes, two exceptional heritage sites on the river Sambre
The town of Thuin in the province of Hainaut enchants every visitor with the elegance of its belfry overlooking the river Sambre, and its hanging gardens.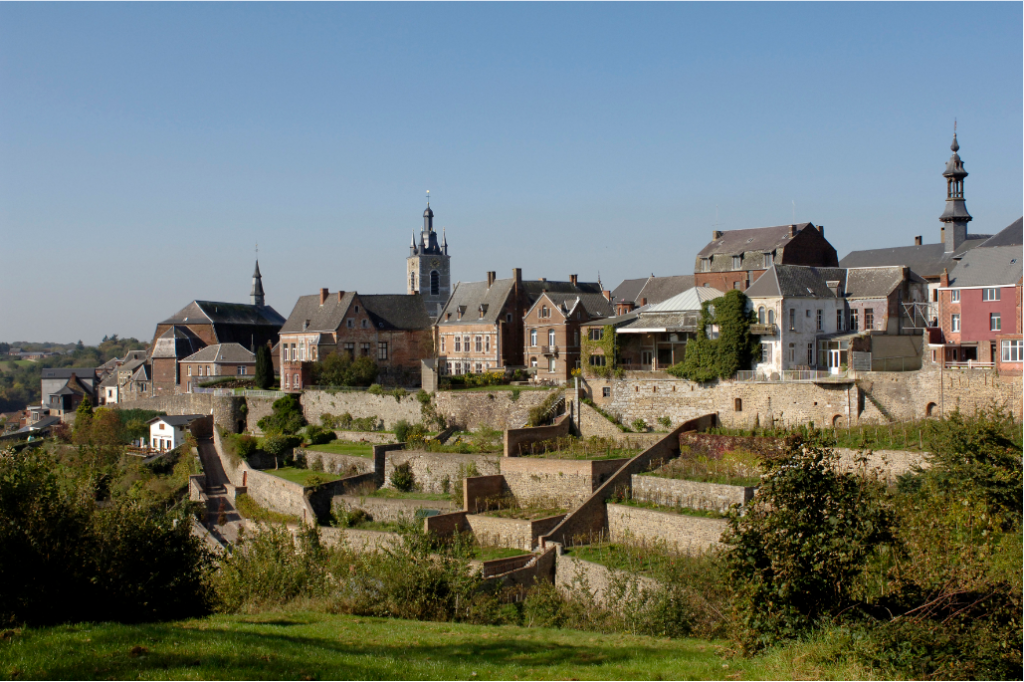 The belfry, listed by UNESCO for its remarkable XVIIth century architecture, guarantees a stunning panorama of the surrounding region. Inside we will get the opportunity to watch a movie retracing the political and economic importance of Thuin through the ages, on the border with the Prince-Bishopric of Liège.
The hanging gardens offer a rare landscape enriched with a contemporary art trail. They are part of the fortification of the medieval city. The south facing terraces enjoy a micro-climate and have a specific flora and fauna. Composed of narrow paved streets and towers this site has even a vineyard producing a delicious sweet natural wine " Le Clos des Zouaves".
As the trail will take us about 1.30h to complete, participants are advised to wear comfortable walking shoes.
Following our discovery of Thuin we will head for the "Relais de la Haute Sambre" where we will have lunch in a privatised room an ideal place for holding the 2022 AGM.
Our next stop will be the Saint Ursmer collegiate church in Lobbes. Nestled in the valley of the river Sambre, Saint Ursmer is widely known as Belgium's oldest church. Built at the beginning of the 9th century by the monks of the Lobbes abbey, it kept its Carolingian style, softened here and there with Mosan touches. Next to the church we will find the Folcuin garden where the guides will tell how gardens were kept in the Middle Ages and which vegetables and herbs they produced.
Lunch and AGM: le Relais de la Haute Sambre , Rue de la Font Pépin 12, 6540 Lobbes  https://goo.gl/maps/wrX67SMQHVE4wKe57
Two courses including 1 glass of beer/wine/soft drink plus coffee or tea. Vegetarians please notify at registration.
If you have registered and paid for this event, let the organiser know, preferably by e-mail, and he will arrange for a more detailed programme and more precise guidelines in the week preceding the outing.
How to get there :
by car: from Brussels take the E19 to Mons/Paris. Take exit 20 in Seneffe and take the N59 to Anderlues. Continue on the N59/N54 to Lobbes/Thuin/ Beaumont. ( 70km/1h10)

by train: take the IC train to Charleroi and then the stop train to Erquelinnes and get off in Thuin ( 1h35).
However as getting there by public transport is not easy and time consuming, participants are kindly asked to consider car-pooling or communicate their willingness to give a lift to others who have no car.