The oldest Belgian town, Roman Tongeren
We discover the historical and cultural heritage of this charming town in the province of Limburg, the country's oldest city, with Roman roots.
The highlights of Tongeren are the basilica, the beguinage, the Teseum museum with the treasury of the basilica and the Romanesque cloister and – famous among all Belgian schoolchildren – the amazing Gallo-Roman museum.
And, of course, the statue of Ambiorix, the leader of the local Gallic tribe who gave Julius Caesar a lot of headaches ("Horum omnium fortissimi sunt Belgae").
We start our day in the Teseum museum where we will visit the archaeological site under the basilica and its treasury. Due to the current Corona restrictions, both sites will be visited with an individual audio guide (these devises can be programmed in several languages).
A two course lunch with one drink and coffee/tea will be served in "De Infirmerie" (the infirmary), a restaurant located within the beguinage in a building that formerly housed guests and sick beguines. Vegetarians please notify at registration.
In the afternoon we will have a guided tour (in English and Dutch) of the most important sights of the city: the statue of Ambiorix, the basilica, the beguinage with its church and the "Moerenpoort", the only remaining medieval city gate.
Our guided tour ends around 4.30 pm after which there may be time left for a drink and a chat.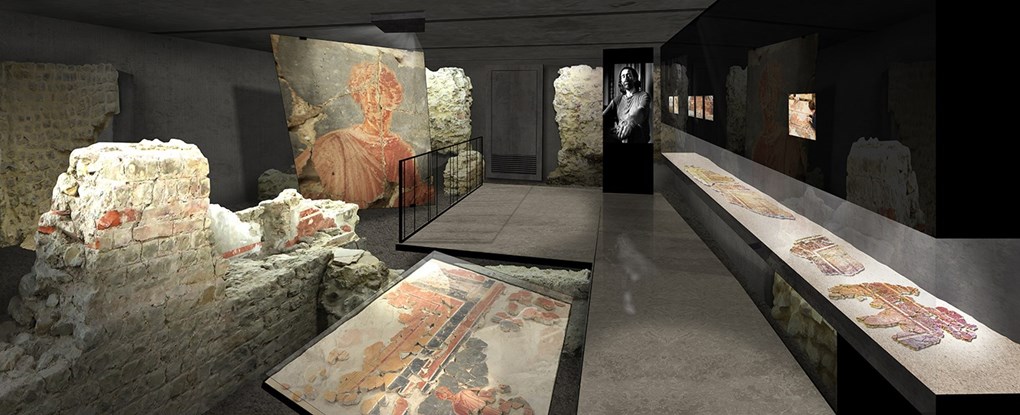 Background info Tongeren:
During their conquest of Gaul in the 1st century BC, the Romans installed an army camp on the site of the current Tongeren, which later developed into a Gallo-Roman settlement.
The area at that time was inhabited by the Gallic tribe of the Eburones who, led by their illustrious leader Ambiorix, fiercely resisted the invaders but were finally defeated.
Under Roman rule, "Atuatuca Tungrorum" grew into one of the largest trading cities in Northern Gaul. The remains of an aqueduct, a temple and the imposing Roman city walls bear witness to this.
After the fall of the Roman Empire and several centuries of decline, the city experienced a revival at the beginning of the middle Ages. A new city wall with gates and towers was erected. Churches, monasteries and a beguinage arose within these walls.
The most impressive building is undoubtedly the Basilica of Our Lady, considered to be a masterpiece of gothic art ("Maasgothiek"). During archaeological excavations (1999-2008) deeper layers underneath the church were explored and important historic finds were discovered a.o. the remains of the 4th C Roman church of Saint Servatius, the first bishop of Tongeren.
These finds, as well as the rich church treasures, can be seen in the Teseum museum.
There are several paying car parks in the center near the meeting point:
– Parking Center (GPS: Sint-Maternuswal
– Parking Grote Markt (GPS: Hondsstraat)
– Parking Julianus (GPS: Clarissenstraat)
Free parking on the Dijk ( 400 m from our meeting point).