Testimonies of the Cold and the Great war
At the beginning of the fifties, in full cold war and under the terms of the Treaty of Brussels (which established the West European Union), Belgium, the UK, France, Luxembourg and the Netherlands built a bunker as a coordination center for the West European Air Defense under the terms of the Treaty of Brussels which established the West European Union.
Due to the creation of an integrated air defense by the North Atlantic Treaty Organisation (NATO) the building never served its purpose. In the sixties, the bunker was transformed into the Headquarters of the Belgian Armed Forces in case of conflict. After the Cold War the bunker lost its military value.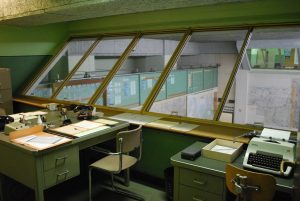 This "top secret" site, in its original state and perfectly preserved, testifies to half a century of tension between the East and the West. Through pictures, movies, objects, uniforms, equipment and the stories brought to us by our guides, former officers of the Belgian Air Force, the Cold War will become once again very real.
Following lunch in the nearby restaurant "De Hollemeersch", we will proceed to Poperinge to start our visit of Talbot House.
During the Great War, Poperinge was part of unoccupied Belgium. Away from the turmoil of battle in the Ypres Salient, Poperinge became the nerve center of the British sector. In the heart of the town the army chaplains Neville Talbot and Philip "Tubby" Clayton opened a club. From december 1915 onwards, and for more than 3 years, Talbot House as it became called, provided rest and recreation to all soldiers coming in, regardless of their rank. Today, as real as then, the place offers a welcoming and friendly stop in Flanders Fields. Following a short introductory video we will be guided around the house and garden and enjoy a warming cup of coffee/tea.
Aterwards participants still energetic enough are invited to reflect on the day and share their findings in the " Vrede" in Westvleteren while enjoying a famous trappist beer brewed in the Saint Sixtus Abbey just across the road (not included in the fee).
Lunch: 12.30h
Hotel Restaurant "De Hollemeersch", Lettingstraat, 58 – 8951 Dranouter. Three courses including water, 1 glass of wine/beer plus coffee. Vegetarians please notify at registration.
Afternoon visit
Starts at 14.30h, at Talbot House, Gasthuisstraat, 43 – 8970 Poperinge
Directions:
From Brussels A40, E17 or E19 > to Briekestraat /N37 in Zonnebeke. On E19 exit 4 Ieper Centrum. Continue on N37 and take N331 to Lettingstraat in Heuvelland. Parking in front of the bunker.
If you have registered and paid for this event, let the organisers know, preferably by e-mail, and they will arrange for more detailed instructions.