The Brussels Ommegang
Attending and admiring the colourful pageant of the Ommegang in Brussels is undoubtedly a life time experience.
The 89th edition of this historic show will take place on 26 and 28 June at the Grand-Place, starting at 8:45 pm. The parade and show are part of the folklore of Brussels, with 1,400 actors, folk and historic groups, horses, puppet theatre, giants, flags,…
In the Brussels Park (Parc de Bruxelles – Warandepark) there will be a free medieval village with tournaments on 26, 27, 28 and 29 June (from noon to 9 pm).
http://www.ommegang.be/?lang=en
These are good reasons to offer our members the opportunity to (re)discover this remarkable event; that's why we took an option for 35 first class seats on the main stand, for the show of Wednesday 26 June.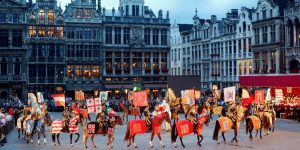 The origin of the Ommegang goes back to the 14th century. In its earlier versions it was a procession in honour of Our Lady of the Sablon organised by the Grand Confraternity (" Serment") of Crossbowmen. Quite soon thereafter the different guilds and bodies constituting the city joined the processions, which developed into a primarily secular municipal event.
The pageant of 1549 was certainly one of the most splendid. That year Emperor Charles V (Keizer Karel / Charles Quint) visited Brussels, capital of the Low Countries, which were part of his huge empire, and officially introduced his son and successor, the future king of Spain, Philip II .
Preceding the performance, which starts at 21.00 h, we will have a convivial and tasty dinner at «Chez Leon» a well known restaurant near the Grand Place.
If you would like to attend the Ommegang you are, for organisatorial reasons, kindly invited to book early i.e. by transfering a deposit of 30 euros to our bank account ( National Trust Belgium IBAN : BE17 0016 2021) and this by Monday March 4th at the latest. Due to its success it will be highly unlikely to obtain additionnal seats after this deadline.
How to get there: The Grand Place and the restaurant are within walking distance from the Central train Station and the metro stops Central  Station and De Brouckère.