Mechelen : Capital of the Burgundian Netherlands
On our first outing of 2019 we visit the recently renovated Museum 'Hof van Busleyden' in Mechelen. The museum is housed in a  magnificent renaissance building. We will follow in the footsteps of Hieronymus van Busleyden, Margaret of Austria, Erasmus and Thomas More, which will give us the occasion to exchange ideas and reflect on our changing world much like they did in the 15th and 16th centuries. We will explore the masterpieces and treasures of the museum, learn about mastership and crafmanship and move from lively and bustling rooms to more private, quieter places.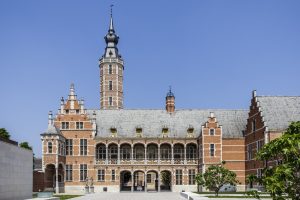 Following our visit of the museum we will have lunch in the Grand Café Lamot situated in a part of the former Lamot brewery. From our tables will have have a splendid view on the river Dyle, just beneath, and the lively Fish Market, a beautiful part of the old city.
During a historic city walk in the afternoon we will discover the Saint Rumbold's Cathedral and other major churches, the former palaces of Margaret of Austria, Margaret of York, the palace of the Great Council a.o., and at the same time pay tribute to some of Mechelen's foremost women, from the highest to the lowest social ranks, from the distant past to the present day.
Afterwards, while having a coffee, we will have time to reflect on our day and exchange views and ideas with our guides.
Lunch:
Grand Cafe Lamot, Van Beethovenstraat 8/10, 2800 Mechelen. Two courses incl. water and 1glass of wine /beer and coffee. Vegetarians please notify at registration
How to get there:
By car : Mechelen centrum > Car parking can be difficult on a Saturday (market day). We recommend Parking Grote Markt or Parking Tinel, Tinellaan. If you need more detailed driving instructions please ask the organisers by email.
By train & bus: at Mechelen railway station, take bus nr 1" Centrumpendel Nekkerspoel" and get off at Goswin De Stassartstraat or Veemarkt.