Liège: Fine art in La Boverie and the City's Major Landmarks
CANCELLED
In view of the rapidly changing and still worsening scope of the Coronavirus crisis, the measures taken by the Belgian authorities to combat the spread of the Covid-19 virus and the fact that further developments are as of now hard to predict, the Committee has decided to cancel the activities  for the first half of 2020 i.e. the planned visits to Liège (April 25th), Dinant (May 26th) and to the Zwin and Oostkerke (June 6th) and where possible postpone them to 2021.
As soon as we get a clearer view on how the situation is evolving,  we will inform you about the status of the events scheduled for September and later.
For eight-hundred years (985-1789) Liège was the capital of a sovereign state, the principality of Liège, which extended to the French, Dutch and German borders.  At the intersection of the Germanic and Latin worlds, the city took up a leading position in the Industrial Revolution, which enabled it to develop cultural tools and major works of art. Today, Liège remains the economic capital of Wallonia.
We get together at the entrance of La Boverie, the renovated (2016) museum of Fine Art.  With the new footbridge, 'Passerelle La Belle Liégoise', the museum is just 12 minutes' walk (950 m) from Liege-Guillemins railway station.
The museum is housed in the former Palais des Beaux-Arts, which was built in the Parc de la Boverie for the "Exposition Universelle et Internationale de Liège" in 1905. That exposition was a world's fair to show Liege's industrial importance and to mark 75 years of Belgian independence.
The Parc de la Boverie is situated on the southern tip of the island of Outremeuse, near the mouth of the Ourthe. The building's classic wing is on the right bank of the river Meuse.
The site was renovated from 2013 to 2016, including a new modern wing that multiplied the exhibition space.  Roughly 1/3 is reserved for the permanent collection while 2/3 is available for temporary exhibitions on the upper floor.
At arrival we welcome our members in the museum's auditorium, where we first hold our association's Annual General Meeting. After the meeting two city guides (Fr/Eng) will show us the permanent collection.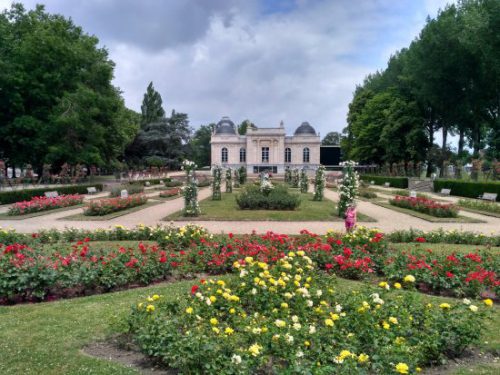 We take lunch in the restaurant of the nearby 'Congres Hotel Van der Valk'.
After lunch we take a 'navette' boat to the city centre. There our guides (Fr/Eng) will walk and talk us around the major landmarks, among others the 'collegiate Saint Denis', founded in 987.
The organized outing will finish around 17h.
If you want to extend the day's outing and spend a weekend in Liège, the organizers recommend the Van der Valk hotel.
You can make private reservations by phone or email:  T. 04 441 200         reception@hotelliege.eu 
by train: With the new footbridge, called 'Passerelle La Belle Liégoise', the La Boverie museum is just a 12 minutes' walk (950 m) from Liege-Guillemins railway station. In front of the station take Rue Paradis to reach the bridge

by car: 100 km / 1 hour from Brussels.
Parking Palais des Congrès, Esplanade de l'Europe, in front of the Van der Valk hotel.
The organizer will welcome car poolers from 09:30h on and show them a short-cut to the entrance of La Boverie (10 min-800m).

We recommend the 'Congrés Hotel Liège Van der Valk' if you want to extend the day's outing and spend a weekend in Liège.
T 04 441 200 reception@hotelliege.eu