Binche and its historic and cultural heritage
Our November outing will give us the opportunity to discover historic Binche and learn about its famous carnival.
Binche is located in the "Région du Centre" in the province of Hainaut, between the cities of Mons and Charleroi and is known for its architectural heritage. Its townwalls, including 22 towers, are unique in Belgium.
In the 16th century during the reign of Charles V – Holy Roman Emperor, King of Spain and Earl of Hainaut – Binche reached its heyday. His sister, Mary of Hungary, often stayed in Binche where she replaced the old feudal castle by a magnificent Renaissance palace. The city device of Binche, which goes back to Emperor Charles V , is " Plus Oultre" meaning " Always further".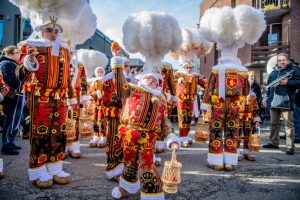 But above all, Binche is famous for its world-renowned carnival, in 2003 recognized by UNESCO as an "Intangible Heritage of Humanity". It is indeed the city of the Gilles with their colourful hats adorned with ostrich feathers. Legend has it that the origin and costumes of the Gilles go back to the Incas of South America. Incas in traditional outfit would have appeared during festivities organized by Mary of Hungary in 1549 to welcome her brother Charles Quint and her nephew Philippe II.
Before having a guided visit of the town, we will discover the rich and unique collection of ethnographic pieces and artefacts of the International Carnival and Mask Museum.
Restaurant: « La Binchoise » Faubourg Saint Paul, 38, Binche. Three courses incl. water and 1 glass of wine/beer and coffee. Vegetarians please notify at registration.
If you have registered and paid for this event, let the organisers know, preferably by e-mail, and they will arrange for more additional and detailed instructions in the course of the week preceding the event.
jean.pierre.monette@vanlerberghe.eu
How to get there:
- by car : from Brussels take E19 direction Mons/Charleroi , Take exit 21 (Soignies) direction Binche (N55). Cross road N563 and continue south to Binche Centre (1,5 km). Avoid the Grand Place (market day) and aim straight to parking places P5 ( parking des Pastures) and P6 ( parking Saint Paul).
You are advised to arrive before 10.00 AM to avoid the crowd heading towards the market.
- by train : IC train from Brussels Midi : 1h30 min. Train station is near the museum.