Abbey of Averbode & de Merode Castle in Westerlo
Please note that this outing exceptionally takes place on a weekday, on Thursday October 17th.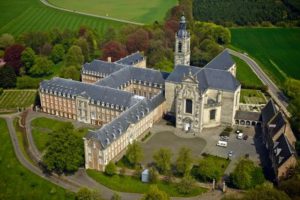 We start the day in Averbode, to discover the famous Premonstratensian abbey. It was founded in 1134 and is still functioning today, which, in view of its turbulent history, may be considered a miracle. Today, the abbey produces artisanal cheese and ale. We will have the opportunity to taste these products. It also houses a guest quarter and a reflection center to meet the spiritual needs of people.
After an introduction, by means of a 30 'film (Dutch spoken – English subtitles), we visit the church, the garden, the monastery  (outside only, monks are still living here), the bakery, the cheese ripening premises and the (micro) brewery.
The oldest surviving part of the complex, the gatehouse, dates from the 16th C, the magnificent Baroque church was built around 1670, while most other buildings were quite intensively renovated during the 18th century.
After lunch in the abbey café we head to the castle de Merode in Westerlo (15 min. drive) for a guided visit of the gardens and the historic rooms; afterwards we will be invited for a cup of tea or coffee with cake.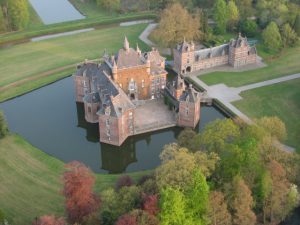 The Merode Castle is a moated château on the bank of the river "Grote Nete". The oldest surviving part is a 14th C keep. The castle is surrounded by an English park laid out around 1870. A geometrical French garden with a central pond was created on the other bank of the river at the beginning of the 18th century.
The château came into the possession of the current owners, de Merode family, as early as 1484. Today Prince Simon de Merode (°1981) manages the property. In 2010, he married the English lady Anna Pigott. The family resides at their property in Westerlo during weekends when it is closed for the public, which is the reason today's outing takes place on a weekday.
The de Merode family played an important role in the 1830 revolution, which led to the emergence of the Kingdom of Belgium. On the occasion of the centenary of Belgium's independence in 1930, all members of the Merode family were elevated from the rank of Count to Prince. Today the family de Merode is one of the few princely families of the high Belgian nobility.
Lunch: 12:00 in the cafe/restaurant of the abbey
One course with a drink and coffee.
For vegetarian meals, please notify in advance

Route:         
GPS address: 3271 Averbode, Herseltsebaan 2  
Parking is not possible at the entrance of the abbey. Use main car park at the Herseltsebaan 2 (200 m from our meeting point)
          
Instructions for the directions to Westerlo and the Merode Castle will be handed out on arrival in Averbode