A medieval fortress and a summer garden in Bouillon
Bouillon, once the capital of a glorious duchy, close to the French border and on the edge of the Ardennes, is a handsome resort town enclosed in a loop of the Semois river and crowned by an outstanding castle.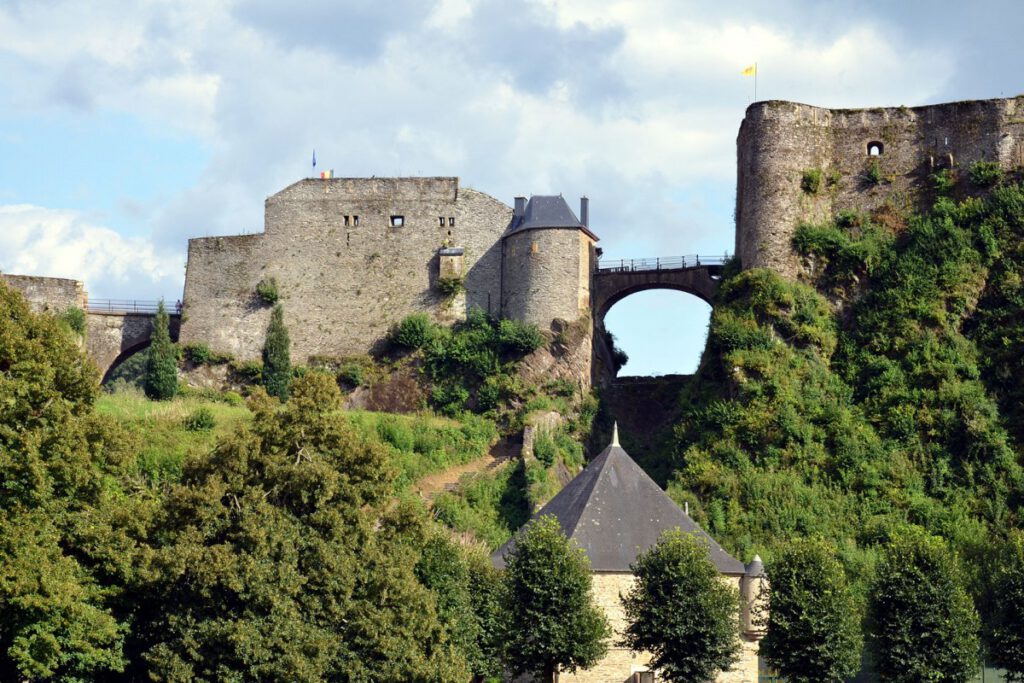 Our visit to the area starts with a guided historical tour of the vast medieval fortress of the Crusader Knight Godfrey of Bouillon. At the end of the visit there will be a chance to either visit an incredible exhibition of writing and writing materials or to attend the Birds of Prey show.
The Scriptura exhibition follows written communications from the Middle Ages to the present day and is well-presented despite containing an incredible amount of artefacts ranging from school notebooks to illuminated manuscripts, and from a school-room to delicate porcelain inkwells, to name just a few. It even includes the early days of printing in Bouillon.
From Bouillon we will drive 10 minutes outside of the town to a charming private garden of 1 hectare, le Bouillon Blanc, created by garden designer Hughes Fernet. In the grounds, M. Fernet has built a small wooden, theatre-in-the-round, known as La Halle, where concerts are held. Here we will have a light catered one-course lunch that will include produce from the garden, followed by our AGM.
Mr. Fernet's personal garden is full of mystery which you discover as you follow a labyrinth of slate-pathed walkways beneath well-established trees and shrubs, between an interesting mix of tight plantings and lawn-and-wildflower areas. It seems as though around every corner there is an incredible vista over farmland and forest.
Suddenly, it all opens up to reveal an enormous, well-organized bio vegetable, cut- and edible-flower from which M. Fernet supplies a nearby Michelin-star restaurant and two others. Our host shares his ideas for dealing with plants hit by last year's drought and this year's frost as well as those niggling problems we all meet in our own gardens.
At the end of our garden tour we will return to La Halle for a farewell drink.
Should you wish to stay longer in this beautiful region, there is a variety of accommodation available. Both the 4-star Hôtel Panorama and the nearby Hôtel Cosy have outstanding views of the Semois river and the castle.
Maps and directions to 'Le Bouillon Blanc' will be supplied in Bouillon.
Driving instructions:
Take the E411 either to:
Exit 25 at Libramont and join the N89 in the direction of Bouillon to Menuchenet and beyond before joining the N828 to Bouillon Castle;
Or take Exit 23a and then follow the N899 via Paliseul to Menuchenet where you join the N89 as above.