Bluebell Walk at the Hallerbos
I am at pains to inform you that our planned bluebell walk in the Hallerbos and the city walk in Halle on Friday April 23rd will  have to be postponed as group visits are no longer possible.
This is the result of the strict measures that the Belgian authorities issued on March 24 to defeat the Coronavirus, which will cover at least the next 4 weeks.
I dearly hope that this outing will eventually be rescheduled and integrated in next year's programme.  As for now, I can only recommend members to go by themselves to the Hallerbos and admire the magic and enchanting beauty of the purple/blue carpet of the blooming hyacinths. The best moment to do this is the second half of April . But avoid weekends if you can.
Andre Ceulemans, Programme coordinator
On weekend days during the bell season there are traditionally large crowds of visitors to the Hallerbos, which is not comfortable really and, moreover, not all that safe in Corona times. That is why we organize our walk on a Friday.
The period of hyacinths flowering is short, maximum 2 to 3 weeks. In the past, April 23 was the middle of that period, so that should be the ideal day to see the forest covered with bluebells.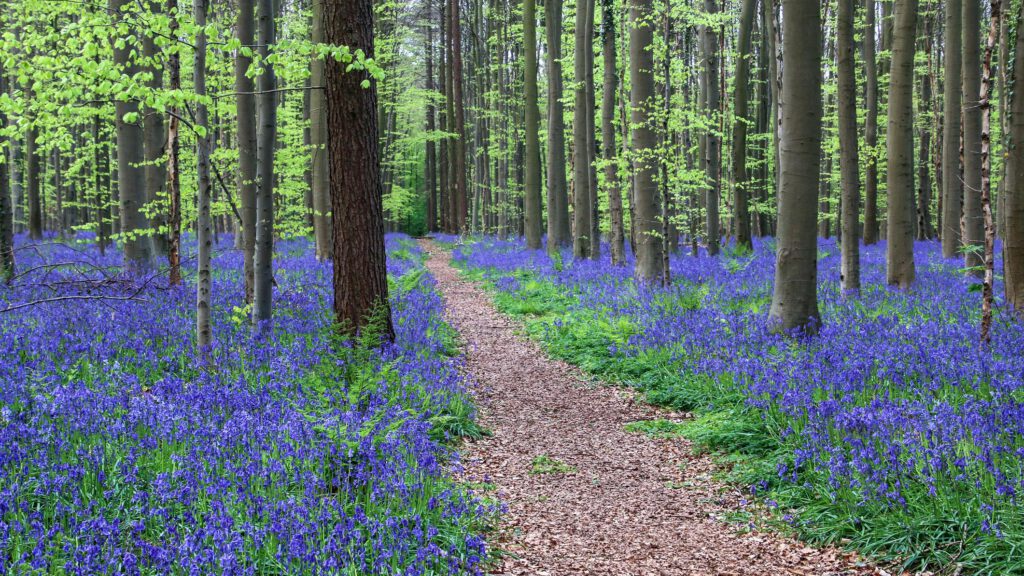 In the afternoon, we will pay a short visit to the town center of Halle and the St. Martin's Basilica, known for its Black Madonna and a place of pilgrimage for that reason.
Regarding lunch, we have to wait and see what will be possible in view of the Corona situation in April. If a group lunch is possible again, we will recommend a restaurant and a menu. However, participants are free to opt out of the group lunch and make their own arrangements. Therefore, the registration fee does not include lunch.